Background Materials — Forces Shaping our Future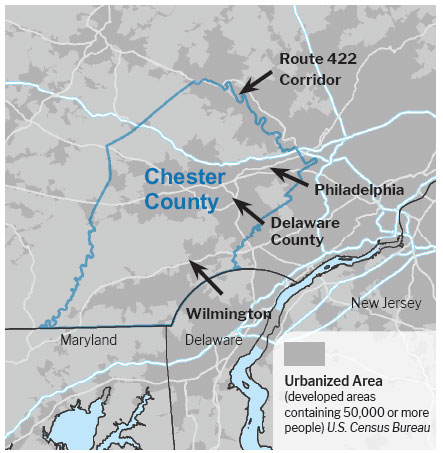 Chester County's unique location between the I-95 corridor and the rural areas dominant in central Pennsylvania provides the best of both worlds—the county not only has strong high-tech and financial industries, distinctive cultural institutions, and attractive residential communities but also has a robust agricultural industry, beautiful rolling countryside, and vibrant villages and towns. Both of these worlds provide Chester County with a high quality of place that is worth embracing and protecting as new growth and change inevitably occur. The county's 73 municipalities consist of distinct place types, from dense urban centers and evolving suburbs to rural countryside and farmland.
Regional influences
Population and business growth pressure continue to affect the county, primarily coming from Philadelphia, Wilmington, Delaware County, and the Route 422 Corridor.
Shifting preferences
Retail, office, and housing markets throughout the U.S. have shifted significantly since the Great Recession, with more people expecting experiential retail, a diverse work environment, and housing options in walkable locations.
Population changes
The county's population will grow older and more diverse as the population increases from 516,000 people in 2015* to an anticipated 662,000 in 2045.
Recent population growth in the county is due to an increase in births and international in-migration. International in-migration is expected to continue and will add to the county's racial and ethnic diversity.
Income
Chester County continues to have the highest median household income in the state, at $90,503 in 2015.
*Data throughout the plan is typically current through 2015, the plan's base year.
Learn more about forces affecting how we: